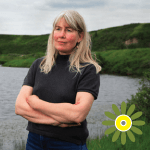 Why did the main media leave out AER's charges against Tourmaline?
If anyone knows the outcome of the Court hearing Feb 19, 2020 in Grand Prairie, please let me know. Thank you.
As natural gas prices sizzle, Tourmaline buys Black Swan Energy in $1.1B deal by Chris Varcoe, June 12, 2021, Calgary Herald

Canadian natural gas prices are heating up this spring and so is the pace of deal-making in the sector.
Tourmaline Oil Corp., already the country's largest gas producer, announced Friday it acquired privately held Black Swan Energy Ltd. in a deal valued at $1.1 billion.
It's another key purchase for Tourmaline as it continues to gobble up prime gas assets, and it comes while mergers and acquisitions have swept through the hard-hit sector.
By the middle of next year, Tourmaline CEO Mike Rose sees the company's total production topping 500,000 barrels of oil equivalent (boe) per day, up from expectations of exiting this year at 430,000 boe per day.
"We're well-positioned with a strong balance sheet and have done now six transactions through 18 months, either in the Alberta Deep Basin (play) or the B.C. Montney," Rose said in an interview Friday.
"Those are Canada's two best and most profitable gas plays and where our largest presence is."
The all-stock deal for Black Swan, which is partly owned by the Canada Pension Plan Investment Board, Warburg Pincus LLC and Azimuth Capital Management, will see Tourmaline assume up to $350 million in debt.
It will add more than 50,000 boe per day to Tourmaline's overall output, and it represents the Calgary-based company's largest acquisition since it acquired shale oil and gas assets from Royal Dutch Shell almost five years ago for $1.4 billion.
More significantly, the new deal allows Tourmaline to continue consolidating assets in the north Montney region in northeast British Columbia.
Founded in 2008, Tourmaline snapped up 50 per cent of the north Montney assets of Saguaro Resources Ltd. in April for $205 million, while inking a joint venture agreement with the smaller company to develop the properties.
In the Black Swan transaction, Rose expects the acquired assets will grow by another 10,000 bpd in the first half of next year, helping propel Tourmaline's total production to the half-a-million boe per day mark, cementing its position as one of Canada's largest and fastest-growing petroleum producers.

Bankruptcy around the corner to let all involved, including Shell, walk from clean up?

"You are putting high-quality assets in the hands of what the market views as a consolidator," said Robert Fitzmartyn, head of energy research at Stifel FirstEnergy.
"This doesn't only reinforce Tourmaline Oil as a North American energy stock, but it's emerging on a global scale now."
Tourmaline expects the acquired assets to pump out $150 million to $200 million a year in free cash flow at current gas prices and it also announced Friday a dividend increase.
"We just keep growing efficiently (to) maintain that low cost," added Rose.
"The reality is we figured out how to be profitable at $1.75 gas by having such a low-cost structure. So now, it's a little nicer when gas is in the $2.75 to $3 range. That's why we can generate so much free cash flow."
Investors welcomed the news as Tourmaline stock, which has climbed 90 per cent this year, closed Friday at $33.25 on the Toronto Stock Exchange, up $2.55 on the day.
"It's just the strong getting stronger," said Jordan McNiven, a director with Tudor Pickering Holt & Co.
"It's good for the resilience of the Canadian gas industry and good for Tourmaline."
This is the latest takeover within the Canadian natural gas industry, highlighted by ARC Resources Ltd. buying Seven Generations Energy Ltd. in February, creating a much larger combined company with an enterprise value of $8.1 billion.
Last November, Tourmaline announced two separate takeovers on the same day, acquiring Jupiter Resources and Modern Resources in deals valued at more than $750 million.
The consolidation continues as the financial fortunes of natural gas producers have reversed over the past year, with higher commodity prices and growing demand for liquefied natural gas exports from the U.S.
Earlier this week, the U.S. Energy Information Administration projected benchmark natural gas prices will average US$3.07 per million British thermal units (mmBtu) in 2021, up from $2 last year.
In Western Canada, benchmark AECO spot prices sat at US$1.40 per mmBtu a year ago, but are projected to average about $2.50 for this summer, before heading higher to around $2.75 in the fall, according to energy consultancy IHS Markit.
U.S. natural gas prices increased Friday to close at $3.30 per mmBtu.
"These are the highest summer prices since 2014," said Ian Archer, associate director of North American natural gas for IHS Markit.
"This is essentially a big boon for those guys. They are finally seeing better prices and finally seeing better days … It's a dramatic change."
In recent years, the Canadian gas industry has been dogged by stubbornly low prices, competition from rising U.S. output and infrastructure bottlenecks.
Many of those headaches have subsided. The phasing out of coal in electricity generation has also increased demand for natural gas in Alberta.
While there remains some risk that improving pricing will coax North American gas producers to spend more on drilling and bump up production later this year, there's also a chance a hot summer or cold winter will boost continental demand and push prices even higher, Archer added.
With improving industry economics, expect to see more M&A activity from producers with strong balance sheets that are looking to expand, said analyst Phil Skolnick with Eight Capital.
"It's just the beginning. There is a good amount left to be done in the Montney," Skolnick said.

Heaven help: the people there, and their pets and livestock; public health; wildlife; groundwater; homes, businesses and public infrastructure including Site C dam from the relentless frac quakes; global air; and investors and banks when the massive debt crashes in on them, or the frac'ers intentionally walk and our oil and gas patch friendly courts let them hang the citizenry with clean up.

"Part of the point of doing this M&A is to gain more relevancy. The bigger you get … the more attention you are going to get from investors."
Tourmaline continues buying spree in Montney with $750-million deal for Black Swan by Jeffrey Jones, June 11, 2021, The Globe and Mail
Tourmaline Oil Corp. is buying Black Swan Energy Ltd. for about $750-million in stock, marking the latest in a series of acquisitions to bulk up in British Columbia's prolific Montney natural gas region.
Tourmaline, led by chief executive officer Mike Rose, sees the north part of the Montney region as a major supply source for future liquefied natural gas plants on Canada's West Coast, and has been building up its dominance there.
Prices for natural-gas-producing assets have yet to fully recover from the pandemic-driven lows of 2020, which keeps generating opportunities to bolster the company's position, Mr. Rose said.
"It's been a strategy that we hatched a couple years ago – when things become available and if the prices are right and we can generate free cash flow, that's the critical screening criteria," he said in an interview.
The company's shares jumped 8 per cent to $33.25 on the Toronto Stock Exchange on Friday. Tourmaline is up 175 per cent in the past year after deals that include the initial public offering of its royalty and midstream affiliate Topaz Energy Corp.
Investors recognize the Montney to be one of North America's top regions for natural gas and condensate. They welcome the company's growth there because of its vast resources and Tourmaline's ability to operate efficiently, said Robert Fitzmartyn, analyst at Stifel FirstEnergy.
That is why Mr. Rose can issue stock to do deals and be rewarded, when many of his rivals would not find the market support. Black Swan is owned by the Canada Pension Plan Investment Board and private-equity managers Azimuth Capital Management and Warburg Pincus LLC.
"The bottom line is I think people – private equity management teams – want his paper because it's good value. He's a low-cost guy, so stewardship of the capital is amongst the best," Mr. Fitzmartyn said.
The company is preparing for a new export market in the coming years. Royal Dutch Shell PLC-led LNG Canada is building an $18-billion LNG terminal in Kitimat, B.C., which would be fed by natural gas from the Montney. The goal is to complete the pipeline by late 2023, start testing the line in 2024 and have the new plant supercooling gas into liquid form in 2025 for export on Asia-bound tankers. Other projects could follow, increasing demand for the region's gas.
Mr. Rose has described the acquisition environment as a "generational opportunity" to consolidate production in the Montney, as well as the Deep Basin area in Alberta, where the company has also bought up assets.
"If commodity prices keep going up, or even hold where they are, I think that [mergers and acquisitions] opportunity disappears," he said.
Under the deal, Tourmaline will issue 26 million of its shares for Black Swan. It will also assume up to $350-million of debt, bringing the total value of the acquisition to $1.1-billion.
Black Swan produces about 50,000 barrels of oil equivalent a day, and that is expected to increase to 60,000 next year as part of an expansion project. Tourmaline said the acquisition adds to its own holdings in the region, which it increased earlier through deals to buy Polar Star Canadian Oil & Gas, Chinook Energy Inc. and Saguaro Resources Ltd.
It now expects to produce 500,000 barrels of oil equivalent a day by the middle of next year.
Meanwhile, it said it is boosting its quarterly dividend by 6.35 per cent as a result of the extra free cash flow it will generate by acquiring Black Swan.

Refer also to:
AER laid five environmental and conservation-related charges against Tourmaline Oil and spinoff Topaz Energy Corp., and three charges against CWC Energy Services for knowingly leaking sour gas (H2S) "that impacted human health" in 2018 near Spirit River, Alberta. Court hearing Feb 19, 2020 in Grand Prairie. I have been unable to find any ruling on that yet. Settled and gagged? Swept under the rug by a friendly judge, or worse, by the 100% industry-funded AER?
… Tourmaline Oil Corp. and Topaz Oil Corp have been charged with:
One count under section 109(1) of the Environmental Protection and Enhancement Act (EPEA) for knowingly releasing a substance to the environment that caused or may have caused an adverse effect;
One count under section 109(2) of the Environmental Protection and Enhancement Act for releasing a substance to the environment that caused or may have caused an adverse effect;
One count under section 110(1) of the Environmental Protection and Enhancement Act for failing to report the release of the substance, being the person who caused the release, as soon as possible;
One count under section 110(2) of the Environmental Protection and Enhancement Act for failing to report the release of the substance, being the person who knew or ought to have known, as soon as possible;
One Count under section 108(2) of the Oil and Gas Conservation Act for failing to comply with Directive 37. …
… Police said the gas was released Friday afternoon by a plant near Bay Tree about 100 kilometres northwest of Grande Prairie. [About 60 km west of Spirit River] … Police said they received lots of calls from people wondering if they should leave the area. …
One of the comments:
Jeff Christian
Great. Lives endangered. Companies charged. No individuals charged. Guess where this will go.
New Study: Sulfide-producing bacteria dominate hydraulically fractured shale oil & gas wells. "An estimated 70% of waterflooded reservoirs world-wide have soured."
B.C. school kids in danger, can suffer DNA damage illness from leaking sour gas several km away, yet B.C. allows wells within 100 m (~330 feet) of schools
In a single recent five-year span there were 73 documented sour gas leaks in B.C. and 34 workers died as a result of sour gas exposure since 1983. …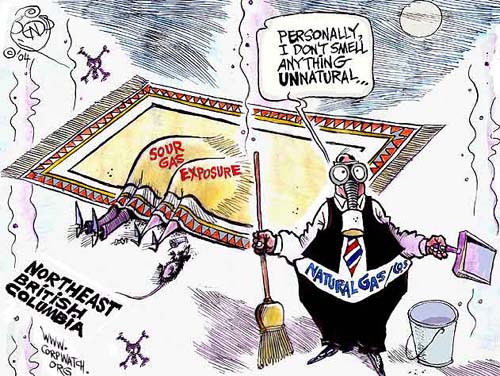 President European Investment Bank, Dr. Werner Hoyer: "Gas is over." Oh, Oh! What's gas frac'er Ovintiv/Encana gonna do? And, what's Petro Pimp Jason Kenney gonna do?
Most of the world's proposed LNG projects unlikely to be built as investors fall out of love with natural gas, A quarter of them are located in Canada