What and Who is AEMERA?
Collaborative – an adjective meaning "produced or conducted by two or more parties working together". Collaboration is one of our core values at AEMERA. [That'll guarantee failure before AEMERA even starts] We actively seek out mutually beneficial working relationships with a variety of parties to measure, assess and inform on the condition of Alberta's environment.
Integrated Resource Management System (IRMS) Partners
AEMERA is a working partner – along with Alberta Environment and Parks (AEP), the Alberta Energy Regulator (AER), Alberta Energy, Alberta Agriculture and Forestry and Alberta Indigenous Relations – in managing and ensuring a coordinated and effective Integrated Resource Management System (IRMS) on behalf of all Albertans.
Our role within the IRMS is to provide proactive, objective reporting of scientific data and information on the condition of Alberta's environment including:
baseline environmental monitoring;
cumulative effects monitoring;
data evaluation and management;
state of the environment reporting in all regions of Alberta; and
credible data, evaluation, knowledge and reporting to inform policy and regulatory decision-making.
Board Members [Any wonder AEMERA is a big failure?]
Board Chair Dr. Lorne Taylor is a consultant and businessman based in Medicine Hat in southeastern Alberta, and was the founding Chair of the Alberta Water Research Institute. He is currently the Special Advisor to Alberta WaterSMART. He has held tenured positions at several universities.
Dr. Taylor entered politics in 1993 by being elected to the Legislative Assembly of Alberta for the riding of Cypress Medicine Hat. From 1993 to 2004, he served as Alberta's Minister of Science, Research and Information Technology, Minister of Innovation and Science, and Minister of the Environment. While in government, Dr. Taylor was instrumental in the creation of the Alberta Ingenuity Fund, Alberta SuperNet, and the Water for Life Strategy which remains the government's water strategy to this day [Where it's so ineffective, regulators broke the law and fraudulently covered-up and continue helping Encana get away with breaking the law, fracturing Rosebud's drinking water aquifers. Ernst does not have Water for Life at her home in Rosebud, Alberta. Water for Life in Alberta is a big failure too, just like AEMERA is.]
… Most recently, Dr. Taylor served on the Alberta Environmental Monitoring Management Board whose September 2013 report provides advice on the creation of the Alberta Environmental Monitoring, Evaluation and Reporting Agency.
Board Member Arlin Hackman is a consultant in Victoria, BC with 35 years local to global experience in developing and directing major conservation programs, market-based performance systems as well as partnerships and coalitions related to land and resource management. A geographer born and raised in Alberta, Mr. Hackman gained his leadership skills in the 1990s by mobilizing the Endangered Spaces campaign, more than doubling Canada's parkland in just a decade and fuelling the growth of WWF-Canada where he went on to serve as Vice President and Chief Conservation Officer for ten years. In that position, his wide-ranging responsibilities included helping forest products companies secure FSC certification for one third of Canada's commercial forest, guiding programs in the circumpolar Arctic as well as Cuba, serving on WWF's International Programme Committee and on the advisory group for the Responsible Mineral Development Initiative of the World Economic Forum.
A strategic thinker with a deep commitment to integrating conservation and development, Mr. Hackman is a long-time member of the IUCN's World Commission on Protected Areas, was recently appointed to the board of TNC Canada and also serves on the executive board of the Canadian International Institute for Extractive Industries and Development. [Conflict of Interest?]
Board Member Ms. Sheila Leggett combines her understanding of provincial and federal regulatory systems with her strong background in environmental research and practical knowledge to achieve sustainable development solutions. Her interpersonal skills, breadth of experience in the regulatory, corporate and management sectors of the agricultural and oil and gas industries have enabled her to understand and take into account the viewpoints of diverse perspectives in reaching regulatory decisions. Sheila's open communication style and knowledge of best governance practices allows her to work effectively with a variety of stakeholders to ensure that the full range of viewpoints is heard from prior to making a decision.
Currently, Ms. Leggett is the President and Consultant at Tower Peak Consultants Ltd., providing clients with strategic regulatory, environmental and governance advice. From 2010 to 2013, Ms. Leggett was the Presiding Member (Chair) of the National Energy Board and Canadian Environmental Assessment Agency, Northern Gateway Project, Joint Review that conducted an oral hearing process and a comprehensive technical review of the Project and provided public recommendation to the Minister of Natural Resources for Cabinet decision. Ms. Leggett was the Deputy Administrator of the Northern Pipeline Agency and from 2008 until 2013, and was the vice-chair of the National Energy Board. Before joining the National Energy Board, Ms. Leggett was a board member with the Natural Resources Conservation Board. Prior to this, Ms. Leggett was a vice-president and senior consultant with an environmental consulting firm [why not name which one?] and a founding board member for Alberta Ecotrust.
Ms. Leggett has a Bachelor's degree in Biology from McGill University and a Master's degree in Biology from the University of Calgary. Ms. Leggett has published numerous papers and made presentations at conferences across North America. She resides in Calgary
Board Member Ms. Patricia McCunn-Miller is a lawyer with experience in regulatory, environmental, social and governance matters. With thirty years of energy, environmental and regulatory experience, Ms. McCunn-Miller is currently the President of Blue Bridge Energy, an energy advisory company. Prior to that, she was Vice-President Regulatory, Government and Public Affairs – Gas Monetization at Talisman Energy Inc. During her position there, she did extensive engagement work with all levels of government, local stakeholders, and First Nations in the development of a strategic framework for liquefied natural gas (LNG). Ms. McCunn-Miller also served as the Executive Vice President of Corporate Responsibility of Synenco Energy Inc., and served as its Corporate Secretary and General Counsel.
Ms. McCunn-Miller's experience includes serving as a Board Member of the National Energy Board. She was also a Member and Vice-Chair of the National Roundtable on the Environment and the Economy from 1999 to February 2004, and a Board Member of Climate Change Central from 2000 to 2010, including a period as interim President and CEO. She served as Managing Director of Environment and Regulatory Affairs for PanCanadian Petroleum from July 1996 to April 2001, and as Vice-President, Environment and Regulatory Affairs with its successor company, EnCana Corporation, from April 2001 to November 2003. Prior to that Ms. McCunn-Miller was General Counsel to the Alberta Petroleum Marketing Commission.
Board Member Dr. Robert Page has 25 years of experience in environmental impact assessment and sustainability challenges for public and private sector parties. Recently he served as Director, Enbridge Centre for Corporate Sustainability, Haskayne School of Business (2012-2014), and before that as the TransAlta Professor of Environmental Management and Sustainability in the Institute for Sustainable Energy, Environment and Economy, both at the University of Calgary. His career demonstrates both academic and corporate leadership. Dr. Page has done research and writing on oil, gas, and arctic pipelines and has appeared as an expert witness before the US Senate and the Canadian Parliamentary Committees. He joined the University of Calgary as Dean of Environmental Design (1990-1997). During those years he also did analytical and strategic work for Canadian companies and associations as well as chairing the federal inquiry into Banff National Park (1995-97).
As Vice President, Sustainable Department for the TransAlta Corporation (1997-2007), he achieved a number of distinctions for the company including a number one ranking in the world for electrical utilities in the NY based Dow Jones Sustainability Index. In corporate affairs he is a Board member of the Enmax Corporation (Calgary) and the Canadian Standards Association Group (Toronto & Cleveland). He chairs the International Standards Association ISO 14000 series of international environmental standards out of Geneva. Over the years he has been active in Pollution Probe (Toronto), Canadian Parks and Wilderness Society (southern Alberta Chapter) and the International Institute for Sustainable Development (Ottawa). On science he serves of the Board of the Canadian Water Network, (Center of Excellence) and the Royal Canadian Geographical Society (Ottawa). He is the former Chair of the National Round Table on Environment and Economy (Ottawa) and the International Emissions Trading Association Board (Geneva); he was a former member of the Business Environmental Leadership Council to the Pew Centre on Global Climate Change (Washington, DC). He has served on several advisory committees to the Alberta Government including 10 years on CASA representing the electricity sector. He and his wife Jocelyne are active mountain hikers and supporters of heritage and artistic organizations.
Executive
AEMERA's Executive Team manages the day-to-day operations of the organization. The current members of the executive team are:
Prior to joining AEMERA, Jay served as a Board Member with the Natural Resources Conservation Board for three years, and on the Surface Rights and the Land Compensation Boards for one year.
A well-known and respected leader in the environmental community, Jay served as Assistant Deputy Minister for six years at Alberta Environment, and Alberta Tourism, Parks and Recreation. During his long career in the province, he also worked as Manager of Environment and Engineering at the Alberta Special Waste Management Corporation, served as a Canadian advisor on environmental standards to the Indonesian government as part of a Canadian International Development Agency project, and was a member of several World Bank teams on environmental issues.
Jay was a member of the University of Alberta Senate for six years, and served on the Board of Governors for three years. He is currently a Board Trustee and Chair of the Admissions Committee for the Institute of Professional Environmental Practice.
Jay has a Bachelor of Science in Chemical Engineering from the University of California, and a Masters in Civil and Environmental Engineering from the University of Alberta. He is also a Board Certified Environmental Engineer with the American Academy of Environmental Engineers, and a Qualified Environmental Professional with the Institute of Professional Environmental Practice. He has won many awards, including two international awards for his work in the environmental field.
…Her consulting work follows seven years as a senior communications director in three different ministries for the Government of Alberta; Environment, Innovation and Science, and Economic Development, and the press secretary to the Premier of the Northwest Territories (NWT), where she was actively involved in the creation of the territory of Nunavut, and the environmental approvals and community agreements for Canada's first diamond mines.
In her career, Val also led the development of an employee communications program at PanCanadian Petroleum (now EnCana); served for five years as the Director of Communications at Keyano College in Fort McMurray; and as a newspaper editor and reporter at the Fort McMurray Today, the Grande Prairie Herald-Tribune and the Peace River Record-Gazette.
Val holds a degree in military history from the University of Alberta, and a certificate in Journalism from Vancouver Community College (now Langara) in Vancouver.
An active member and supporter of the International Association of Business Communicators (IABC), involved at the regional, national and international levels, she is a recognized speaker and award-winning communications professional.
***
Editorial: Alberta's environmental monitoring move makes sense by Edmonton Journal Editorial Board, April 7, 2016, Edmonton Journal
Environmental oversight in Alberta has gone through more shakeups in recent years than a pair of maracas in a salsa band as leaders of the day have laid claims to establishing "world-class environmental monitoring systems."
Alberta's Environment and Parks Minister Shannon Phillips announced the latest change-up Tuesday, ending a two-year effort started by the Progressive Conservative government to put oversight of important data collection and scientific research in the hands of an arm's-length body called the Alberta Environmental Monitoring, Evaluation and Reporting Agency.
The agency, often referred to by its AEMERA acronym, and its board of directors will be disbanded. Its work tied to air, water and biodiversity monitoring, along with the scientific staff who perform the work, will move back within the embrace of the environment department and report to a new provincial chief scientist.
That's a good thing, for all the protests Albertans may hear to the contrary.
Protecting the environment and the health of its citizens is a key government responsibility. Properly fulfilling those missions requires solid, long-term data that is collected using rigorous scientific standards. There is no excuse for heaping extra layers of bureaucracy onto the business of collecting that information and discovering the stories the data holds.
Albertans are accustomed to the refrain about the value of arm's-length agencies to deal with controversial subjects, only to hear the tune devolve into sour notes as the government and agency inevitably bicker about roles, responsibilities and who is ultimately accountable for the choices and how public tax dollars are spent. Why add that kind of friction to something that should be straightforward?
But former AEMERA chairman (and PC cabinet minister) Lorne Taylor was correct when he said Wednesday that "the integrity of science should not be weakened by political intervention." [What about CAPP intervention?  Corporate intervention? The Alberta government secretly, fraudulently changing historic baseline water well records?] On this the NDP are currently saying the right things, promising the new structure will provide "independent advice" to a new monitoring and science division.
If oversight of environmental monitoring in Alberta is not arm's-length, then the politicians need to make sure that they are hands off when it comes to the science. [And, not the corporate oil and gas industry polluters?]
Tuesday's announcement promised the new structure will improve the province's environmental monitoring and reporting system. Albertans would settle for stability and transparency. [Albertans haven't seen any yet.  How many more decades of oil patch devastation will be given a free ride?]
A stable monitoring regime combined with the promise of public data

 [That'll be the day!] will allow Alberta to look back over decades and make smart choices. The danger to constant upheaval is that it will alter the way monitoring agencies do their work,
making it impossible to realize a baseline.
Let's hope coming to grips with a rational monitoring system will lead to action on the crucial environment file.
Local editorials are the consensus of the Journal's editorial board, comprising Lorne Motley, Kathy Kerr, Sarah O'Donnell and David Evans. [Emphasis added]
TOO PATHETIC! The battle to build public confidence in energy by Chris Varcoe, April 7, 2016, Calgary Herald
Public confidence and trust are fragile things. Once broken, it's hard to pick up the pieces.
This week brings two shining examples of authorities trying to bolster public confidence in Canada's embattled system for energy oversight.
The National Energy Board announced Tuesday that pipeline companies will be required to make their emergency response plans public. On the same day, the province moved to bring the arm's-length environmental monitoring of the oilsands back inside the Alberta government.
At the Calgary-based NEB, the agency ordered all federally regulated pipelines to post their emergency procedure manuals online by the end of September.
Sensitive data, including security or personal information, will be left out.
Some information is already available for review. Enbridge Inc., for example, has posted several emergency response plans on its website.
For those interested in hundreds of pages of dense reading, you can sift through basic details — such as maps and checklists for first responders — to more technical information, such as how to set up "hot zones" to contain an area, how to manage personnel evacuation and appropriate environmental responses.
The NEB says it's making these changes to increase transparency and improve public confidence in the system.
Board chairman and CEO Peter Watson says after touring the country last year, he heard people frequently raise concerns around the protection of water and land from potential pipeline spills.
"We got a lot of questions about, 'How can we have confidence if we don't understand what the plans are for dealing with some of these incidents?' " Watson said in an interview. "So we took that to heart."
Before building new pipelines became politically radioactive several years ago, both the industry and the regulator were used to discussing emergency response plans internally.
Watson acknowledges the process today must be more open.
"I think a big part of our challenge is to continue to demystify what we do and how we do it," he said.
The NEB has been facing heat in recent years, with questions about its oversight role and how much trust Canadians put in the agency.
The reality today is the public is also highly engaged in energy issues.
Spills and other pipeline problems are headline-making events, as the apparent leak in South Dakota this week involving the Keystone oil pipeline makes clear.
Despite the best-laid emergency plans, it's worth remembering there's no full-proof way to eliminate human error, as several larger leaks in North America have proven.
But let's give credit where it's due.
The NEB is taking steps to show the public what protection systems are in place.
"The hope is the public will see that pipelines are prepared to deal with these issues," says Chris Bloomer, CEO of the Canadian Energy Pipeline Association.
At the legislature, public confidence was also on the front burner as the Notley government moved Tuesday to take over the functions of the Alberta Environmental Monitoring, Evaluation and Reporting Agency by summer.
It marks the end, hopefully, of a long-running political saga to get the province to establish a comprehensive, credible system to monitor the cumulative environmental impact of oilsands development in northern Alberta [and frac harms and contamination throughout the rest of the provice! why do the media keep conveniently leaving that vital tid bit out?].
The file dates back almost a decade, when Alberta's land-use framework was formed by the former Stelmach government to create integrated planning for the booming oilsands region.
Opponents weren't convinced it was independent.
Criticism from environmental groups and First Nations escalated. More reports were conducted.
In 2014, the organization was formed as an arm's-length agency to take over and co-ordinate what was to be a world-class scientific monitoring system of the oilsands.
But a new review by former Environment Canada deputy minister Paul Boothe calls the agency a "failed experiment" in outsourcing government responsibility to a third party.
The group's board of directors fiercely rejects the criticism [!!!!!!!!], but Boothe, the government and environmentalists aren't convinced.
Like many energy debates in the country, the issue comes back to public confidence. [Convenient to blame the public for this obvious intentional avoidance dance by multinational corporate polluters?]
The report concludes one reason for the agency's failure was the "erroneous belief that the lack of public credibility attached to environmental monitoring in Alberta … was related to its close link with government, rather than the weakness of its scientific underpinnings."
Boothe said Wednesday the upcoming changes will ultimately improve oilsands monitoring and the scientific strength inside government. [Time will tell, if these "new" promises to monitor the harms and pollution by the oil and gas industry ever take place. Meanwhile, the AER, with the NDP govt's blessings & lies, continues to madly deregulate and spread the unregulated frac-frenzy-free-for-all blanket approval across Alberta] This, in turn, should bolster public trust in the entire process. [It likely won't. Canadians have educated themselves, are watching the lies, harms, spills and devastation, and no longer believe in any part of the process or industry and it's lying, fraudulent, corrupt deregulating "regulators"]
"We need good environmental monitoring in the oilsands if we're going to have a social licence to develop the resource," said Boothe, a professor at the Ivey Business School at Western University.
"When there are problems, you need to know what they are, you need to be transparent about them, and you need to fix them."
Whether this works will only be proven over time by developing the resource properly [but, the govt and regulator keep promising that's what's been done all along (while hiding their massive deregulation & contaminated aquifers, land and air under the frac carpet)] and winning approval for energy infrastructure needed to get product to market.
Without transparency and trust, however, the road to success will be that much longer. [Emphasis added]
The NDP flattens final ruins of PC environmental system by Don Braid, April 5, 2016, Calgary Herald
With one move on Tuesday, the NDP government buried the final remains of the old Progressive Conservative approach to the oilsands, pollution and environmental protection.
Environment Minister Shannon Phillips framed it dramatically: measuring bad stuff in the air, land and water, she said, is a key government function, like public health and public safety.
This job is not to be shuffled off to quasi-independent bodies like the Alberta Environmental Monitoring, Evaluation and Reporting Agency.
So she abolished this PC creation, disbanded the board, and took all the monitoring powers into her department.
The subtext is that heavy industry's only role is to provide most of the money ($50 million a year), as well as necessary co-operation, in order to measure the impact of its activities.
PC interim leader Ric McIver instantly charged Phillips with collecting a tax for which the industry now gets nothing in return — it's "taxation without representation," he actually said.
McIver asked who would monitor Phillips, calling her a persistent critic of industry. She sharply accused him of character assassination and refused to answer his questions.
As often happens, though, it was hard to grasp McIver's point.
Oil and gas firms, including oilsands producers, were never purchasing a service from the government.
They were supposed to be funding arm's-length efforts to measure and mitigate environmental impacts, an enterprise that ultimately benefits the corporations as much as individuals.
But the PCs always felt they had to have a buffer between themselves and the companies.
Hence they created the monitoring agency, structuring it much like dozens of other arm's-length bodies, with boards appointed by the government, and reporting to a minister.
Something had to be done after earlier revelations of lax monitoring.
It took a 2014 federal review to prove that toxic oilsands chemicals were leaching into the Athabasca River.
This came after years of provincial claims that the substances occurred naturally. The feds used new, more sensitive equipment that Alberta had not employed. 
That was damned embarrassing. The same year, the PCs established the monitoring agency.
Alberta Environment Monitoring System
Phillips now calls it a "failed experiment." A new study found the body was often dysfunctional and plagued by infighting.
The NDP found duplication of services and lack of communication with government. Earlier, an expert panel pointed to poor correlation of results, and failure to present them in ways the public can understand.
Then there's politics. The chair of the monitoring agency was Lorne Taylor, a former PC environment minister.
(At a moment when another former environment minister, Robin Campbell, is fighting the NDP as new president of the Coal Association of Canada, you can imagine how Phillips feels about PC leftovers.)
In general, the New Democrats despise acrobatic arrangements that purport to separate a public function from government, often to placate some interest group.
A body that reports to the minister obviously isn't independent, they say, so why pretend it is? And why pay a layer of executives to perform the function, when eager civil servants are standing by?
The new monitoring unit certainly won't be independent of government. It will BE government.
Its role will be rigorous monitoring of environmental impacts from the oilsands, coal-fired electricity, agriculture, and just about everything else that puts up a puff of smoke. Phillips says money saved by waving farewell to the monitoring agency's executives will be used to hire more scientists. [Time will tell, if Phillips promises become reality]
No government system is perfect, and the potential problem with this one is that it's inherently political and subject to government whim.
That could make you wonder what happens if there's a Wildrose environment minister someday.
But then, Wildrose environment critic Todd Loewen said he supports this NDP centralization because the goal has to be "world-class environmental monitoring."
Wonders can take a long time to get rolling in Alberta. Then they never cease. [Emphasis added]
Province will take over environmental monitoring after 'failed experiment' by Darcy Henton, April 5, 2016, Calgary Herald
Alberta's experiment with independent environmental monitoring has ended and the province will take over the job, Environment Minister Shannon Phillips said Tuesday.
Phillips said her ministry is dissolving the board of the Alberta Environmental Monitoring, Evaluation and Reporting Agency (AEMERA) and taking back control of the agency because monitoring is a core function related to the health and safety of Albertans. 
"I am pleased to announce concrete steps that we will be taking to strengthen the scientific oversight of our province's environment monitoring system and to ensure that it is transparent and accountable to Albertans," she said. [How many more years will the "will be" take?]
The seven-member board of directors was chaired by former PC cabinet minister Lorne Taylor, while the president and CEO was Jay Nagendran.
Phillips told reporters at the legislature the changes stem from recommendations made by former Environment Canada Deputy Minister Paul Boothe as part of the NDP government's ongoing review of agencies, boards and commissions.
"The review concluded that despite the best efforts AEMERA was a failed experiment in out-sourcing a core responsibility of government to an arms-length body," she said.
The minister said the break-up of scientific functions between AEMERA and Alberta Environment under the previous Tory government led to a fragmentation of scientific capacity and that critical dollars for monitoring was diverted from monitoring and science to overhead and administrative duplication.
"We're taking the best elements of AEMERA that supported independent scientific monitoring and improving upon them," she said.
The transition of AEMERA staff back into government is expected to be completed this summer. The agency had about 90 staff but was hoping to bolster its scientific staff by 60 over the coming months.
Phillips noted her government is retaining the external international science advisory panel that gave the agency a B grade last month and hiring on AEMERA's chief scientist Fred Wrona, who will report to Environment Deputy Minister Andre Corbould.
"This is not about any staff failure," said Phillips. "This is all about governance."
She added the move wasn't about saving money and any savings from reducing duplication will be invested into monitoring.
The agency had been funded with $50 million annually from the oil and gas industry and about $28 million from the province.
AEMERA was criticized by the auditor general for failing to deliver annual reports in a timely manner while the expert scientific panel criticized it for its lack of a clear document that set out its mandate. [Imagine such shoddy work for nearly $100 million a year?]
It said the program set up in 2012 has made "significant advances," but has a number of flaws that must be addressed.
The panel of six scientists, headed by Philip Hopke of Clarkson University, said the program has failed to analyze data it has collected, lacks a documented quality assurance process, and provides information that is difficult for stakeholders and the public to understand.
"It has been a bumpy road to get here," said Phillips. "There's no question about that. But there is also no question that we cannot have fragmentation of scarce resources."
***
Paul Boothe Profile at Ivey Business School
Professor, Business, Economics and Public Policy
Director, Lawrence National Centre for Policy and Management
Paul Boothe was appointed Professor and Director of the Lawrence National Centre for Policy and Management at the Ivey Business School, Western University in September 2012. His career has included university research and teaching, acting as an independent [How can Mr. Boothe be "independent" if the purpose of the Ivey Business School is to "improve collaboration between business and government" … promote fascism in other words?] consultant to Canadian and international organizations, and serving at the deputy minister level in provincial and federal governments.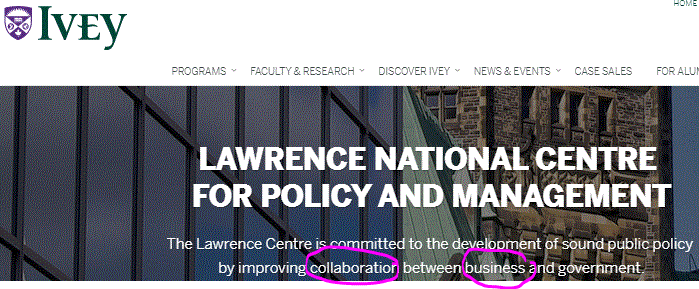 Snap taken April 5, 2016 from: http://www.ivey.uwo.ca/lawrencecentre
Dr. Boothe was trained in economics at Western (Hons BA) and UBC (PhD). He was appointed to the faculty of the University of Alberta from 1984 to 2007. He has authored more than 70 publications in the areas of macroeconomics, international finance, debt management and public finance. [Emphasis added]
A needlessly expensive 'failed experiment' in Alberta: Kill oilsands monitoring agency, report says by Bob Weber, The Canadian Press, April 4, 2016, Calgary Herald
EDMONTON — An arm's-length agency created as a world-class monitor of the environmental impacts of Alberta's oilsands is instead a "failed experiment" that should be rolled back up into the government, a review has concluded.
A report done for Alberta's environment minister says the Alberta Environmental Monitoring, Evaluation and Reporting Agency is needlessly expensive, poorly co-ordinated and split by bureaucratic infighting. [Why hire an economist, business and investment promoter from a business school to do a vital report on corporate environmental damages and pollution? Fraudulent set-up by the NDP to blame the public for the intentionally fraudulent AEMERA? Or did industry tell the Environment Minister who to hire?]
"It is hard to escape the conclusion that AEMERA is a failed experiment in outsourcing a core responsibility of government to an arm's-length body," [Or is AEMERA exactly what the oil and gas industry and enabling regulators and politicians want it to be? Like SPOG, Synergy Alberta, etc, intentionally nothing more than PR doodling, brainwashing, time & money wasting go nowhere tail chasing?  Was AEMERA always meant to be nothing but a con job to fool Albertans and the world into thinking some monitoring might eventually begin? Intentionally set up by industry to be years of pompous "world class" promises (aka lies) designed to never begin monitoring the rape and devastation of Alberta by multinational oil and gas companies that have no intention of ever allowing any "real" monitoring to "begin" because they have no intention of ever cleaning up or paying restitution elsewhere?] wrote report author Paul Boothe, director of the Lawrence National Centre for Policy and Management at Western University's Ivey School of Business.
"Three years and tens of millions of dollars later, the results are an organization that is still struggling to get established, dysfunctional relationships with its two key partners … and a failure of all three parties to realize the promise of the … plan to bring critically needed, world-class environmental monitoring to Alberta's oilsands."
[Intentional "Failure?" 
Fourteen years ago, Dr. John Cherry and the Canadian Council of Ministers of the Environment published that unconventional oil and gas impacts are not and will not be monitored:
….long-term neglect in nearly all parts of Canada. This neglect stems from a weak government framework and regulation for groundwater monitoring, management and protection in Canada. … Laws and regulations for groundwater protection are often waek and/or unenforced in most parts of Canada: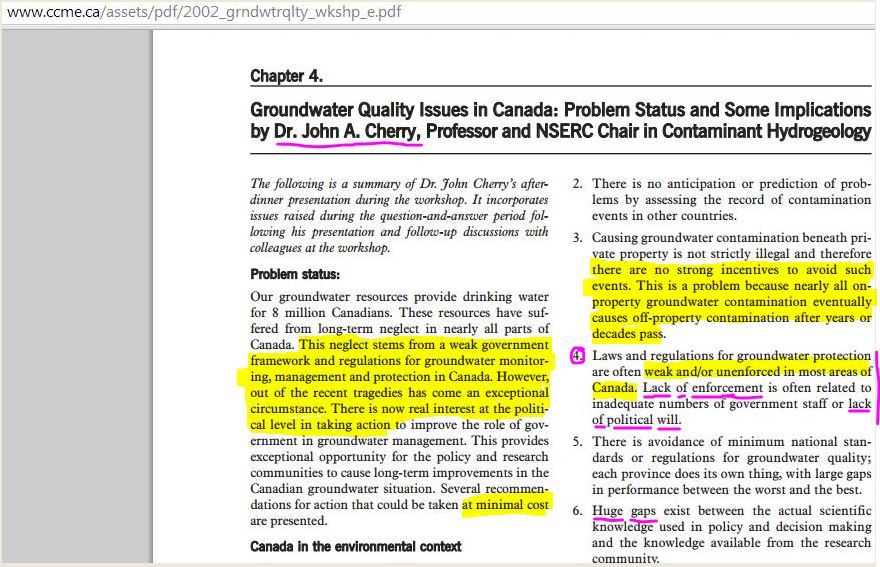 The agency was founded in 2012 after years of criticism over how Alberta was keeping track of the environmental impacts of the then-rapidly expanding oilsands. [Kept track, or intentionally did not keep track, just as AEMERA refuses to start keeping track, to enable the devastation, pollution and cancers?]
The plan was to bring provincial scientists together with resources from Environment Canada to jointly co-ordinate the study of how the industry was affecting the region's air, land and water. The resulting agency was funded by $50 million from industry and another $28 million from the province, which was to fund the expansion of environmental monitoring across the province.
[Monitoring Check:
Nearly $80 million to race in circles going nowhere.
Perfect Synergy Alberta Strategy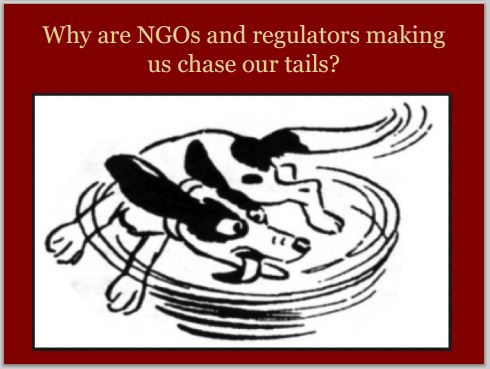 Works every time to con most Albertans into obedient silence, believing the promised monitoring and protections will happen some day; prevent appropriate monitoring so adoringly promoted by Dr. John Cherry and the Munk School of Global Affairs, even though they know they're enabling it not to happen; and protect the companies destroying and poisoning Alberta?]
The agency's research plans have been hailed [In oil patch Canada, especially Alberta, political and corporate PR trumps reality, every time] as a dramatic improvement and numerous scientific papers have been published from its work. But Boothe, a former Environment Canada deputy minister, said the organization itself never gelled.
Boothe's report, obtained by The Canadian Press, points out the funding agreement between government and industry expired a year ago and has never been renewed, "in part because of AEMERA's unwillingness to accept (Environment Canada) as an equal partner in oilsands monitoring." [Can't have anyone watching the monitoring not happening! The public might find out.]
How the agency was supposed to work with the provincial Environment Department and who it was accountable to was never made clear, he writes. [Or created to not work?]
The transfer of provincial scientists to the agency made it hard for the government to fulfil its other environmental responsibilities. [And there we have the real reason for AEMERA?] The agency's reluctance to allow for a federal role restricted its use of Environment Canada resources.
It also costs more than it should.
"In part, the higher costs come because its governance and administrative structures duplicate structures that already exist, at lower cost, in the public sector," wrote Boothe.
"In addition, costs are higher because AEMERA has chosen private rather than public sector salary and benefit comparators."
Boothe outlined several options for Alberta Environment Minister Shannon Phillips. But his preferred path is to return the agency's work to her department with clear lines of accountability to the minister.
"This option has the benefit of consolidating scarce scientific expertise in one location in Alberta," he wrote. "The administrative structure of this option is likely to be the least costly to operate." [And will likely be the most successful to make sure monitoring will never happen?]
His concerns were presaged in February by a scientific peer review, which found the agency's work was poorly focused and co-ordinated. The Canadian Association of Petroleum Producers also expressed concerns about the need for more integration, analysis and coherence.
Boothe concluded the agency failed because it was based on a false belief that the public didn't trust Alberta's environmental monitoring because it was done by government. Instead, he said, the public didn't trust it because it was bad monitoring. [Is this conclusion the real reason for Paul Booth's report? Blame the public for AEMERA's intentional synergy and fraudulent set-up to fail, thereby protecting the corporate pillagers & polluters and prevent monitoring?]
Comment by Diana Daunheimer:
All environmental monitoring in Alberta is in collusion with industry and all monitoring is financially supported by industry as well.
Take for instance all the air-shed management zones, such as PAMZ, which are now a sub-set of the complicit AMERA. Industry pays yearly fees to operate these air-sheds and when they place an air-shed trailer on your land to monitor negligent sour gas and compressor station emissions, employees or synergy facilitators working for the air-sheds, such as Krista Waters (formerly of CMAG, now working for the AER in stakeholder relations) can simply forewarn industrial operators of the placement of the trailers. Industry operators react by suspending operations at the adjacent well bores, so accurate and reliable data is not generated. When the landowner requests in writing to the Executive Director of PAMZ, Kevin Warren, that the historical data must be accompanied by notice that industrial operations were suspended for the duration of monitoring, naturally, the request is refused.
The AER, AEMERA, local synergy groups, such as CMAG and SPOG as well as industry operators and their legal teams, then use this manipulated data to falsely claim there are no air quality issues in communites or localities that are being inundated with industrial emissions. After the monitoring trailers are removed, the suspension of operations are lifted and industry get what they paid for, obfuscation of hazardous emissions, by way of corrupt monitoring and data collection.
The entire monitoring program for industrial emissions in Alberta work on variations of this formula of misconduct and fraudulence. [Like Alberta Environment and Alberta Research Council's Dr. Alexander Blyth drilling "Baseline Monitoring" water wells in the Hamlet of Rosebud three years after Encana illegally and secretly fractured the community's drinking water aquifers and hundreds of other gas wells in the fresh water zones, to intentionally blame nature for the industrial pollutants in the water?]
***
With a "who is" banner like this, who needs environmental monitoring of the oil and gas industry?

See illegal Encana aquifer fracs?
Polluting Encana compressor stations?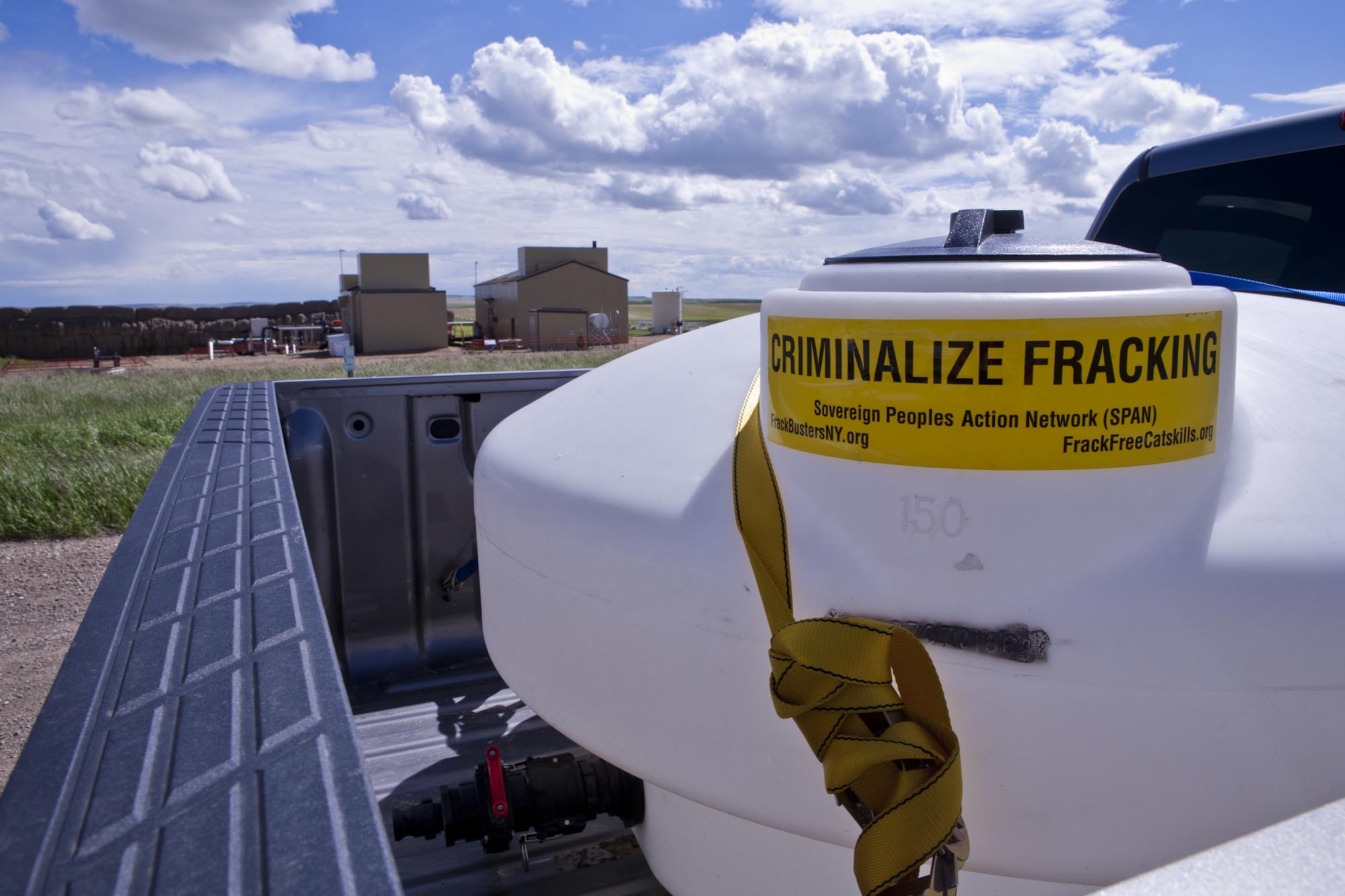 Or a tarsands steam frac gone greedily wrong by CNRL?
Report says Alberta environmental monitoring a failed experiment by Bob Weber, The Canadian Press, April 5, 2016, Calgary Sun [identical article]
[Refer also to:
2015: Oil and gas industry pollution travels hundreds of kilometres, No wonder Harper is muzzling Canadian scientists
2014: Lorne Taylor, Former Tory Environment Minister, To Head "Alberta Environmental Monitoring Evaluation and Reporting Agency;" Taylor currently working for private Alberta water corporation WaterSMART
In early 2008, WaterSMART signed a strategic partnership with Alberta Innovates Technology Futures (formerly Alberta Research Council)…. [In early 2008, this same research council prepared shoddy reviews of Alberta Environment's incomplete water contamination investigations at Rosebud, Ponoka, and Wetaskiwin; ignored the data indicating that Encana and Quicksilver (previously MGV) had contaminated the water; fabricated investigation records and data to blame the harmed water wells owners and nature for the dangerous levels of methane, and the ethane, nitrogen, petroleum distillates and metals in citizen tap water; and refuse to release the public water well records used. FOIP results show that the 'independent" reviews by the Research Council were edited by Alberta Environment]
Also in 2008, WaterSMART entered into a long term strategic relationship with the Oil Sands Leadership Initiative (OSLI)…. Finally, WaterSMART conducted a foundational study with the Alberta Economic Development Authority on the sustainable use of water in Alberta. … Over the last year, WaterSMART has undergone a transformation from the Society to a company incorporated under the Alberta Business Corporations Act. [Emphasis added]

Snap taken April 6, 2016
2013: Promises promises promises, Alberta government "hopes" to finally have long promised environmental monitoring panel running by early 2014
2013: If Alberta wants stricter regulations on oilsands pollution, the precedent exists
2012: Alberta gets tough after screwing up oilsands protection
As Environment Minister Diana McQueen said, it will be unique in the world. It may also be uniquely expensive. And yet, there is no detail whatever on how an agency with such vast duties will ultimately be funded. Few Albertans will have any problem with better environmental monitoring all over Alberta.We need it badly. And we could get it simply by improving the regional monitoring systems already in place. But the PCs need a gaudy symbol they can wrap in the Alberta flag. And so, a big, government-appointed body is going to assume control of, and greatly expand, an extremely complex provincewide system. If this makes you think of Alberta Health Services, please stop. You could hurt yourself. [Emphasis added]
2012: Alberta takes step toward improved environmental monitoring, but questions remain
2012: Alberta's new pollutant-monitoring agency to look beyond oil sands [Would the oil and gas industry ever allow their frac sites to be legitimately, independently "monitored?"]
2012: Alberta government said it is creating a scientific agency to monitor the environmental impacts of tarsands production
2012: Tennant to head enviro monitoring panel
Joining Tennant on the panel are five Albertans from a variety of backgrounds. They include a former president of the TransCanada pipeline group…the deputy minister of environment and water, and a former deputy minister who's moved over to the private sector. Their independence as been questioned, however. Rachel Notley, the New Democrats' environment critic, says panel member Neil McCrank – formerly chairman of the Alberta Energy and Utilities Board – is now part of a law firm that donated $5,000 to Alison Redford's leadership campaign. The opposition party also says panel member Hal Kvisle, a board member of Talisman Energy and the Bank of Montreal, gave $4,000 to her campaign. And Tennant donated $500 to (now deputy premier) Doug Horner's unsuccessful ampaign, Notley says. [Emphasis added]
2007: Alberta water management gets boost, Partners with GE to explore innovations
"What we are really looking for is research that can be translated directly into stakeholder information and practical applications for water management policies and practices," said Lorne Taylor, chairman of the Alberta Water Research Institute. "In other words, this isn't about funding research that will sit on a shelf, this is about funding research that will make a real and meaningful difference to all Albertans," said the former Alberta Environment minister.
The research will help develop technology to reduce the use of fresh water and boost cost-effective ways to reduce and recycle water. [Emphasis added]
2007 11 21: PROFESSIONALS: A seasoned entrepreneur gets her feet wet anew
Along with building public awareness about water issues, Alberta WaterSmart also works with industry. "Eighty-four per cent of the water in our province is allocated to some form of industrial use," notes Ms. [Kim] Sturgess.
She has worked with Newalta Corp., Canada's largest industrial waste-management and environmental services company, to recycle and reuse oil-field wastewater for industrial purposes.
"It's a change in thinking – that water is not a waste product, but also a revenue stream," she says.
"As we develop new water-management practices, they've got to end up as new business opportunities." [Emphasis added]